30 days of me, day 28
Submitted by Earok on Thu, 10/28/2010 - 00:00
A picture of you last year and now, how have you changed since then?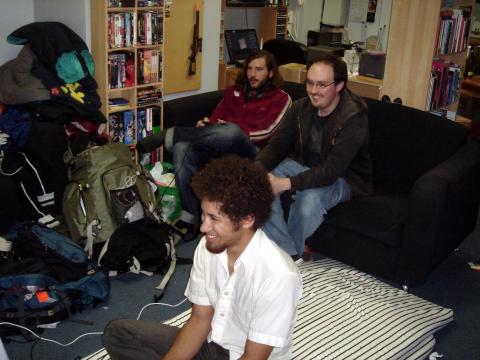 This is myself, Matt and Matt, who were two "Couch Surfers" who stayed at our place during their world wide travels. We're playing Mario Kart 64 on the Wii Virtual Console, they mentioned that they happened to play it about once a year so I was more than happy to give them their Mario Kart 64 fill for the year.
This is Jay, Kirsty and myself during Kirsty's International Travel College graduation. I was so proud of Kirsty that night, asides from Graduating with Merit, she won an award for her tireless efforts to contribute to Campus life.
So how have I changed since last year?
Asides from becoming a bit chunkier since last year, I probably haven't changed much in any significant way. I can only hope that I'm harder working, more organised, more knowledgeable, more compassionate and better at video games than I was then.