Keyboard combinations for Shortcuts
Submitted by Earok on Fri, 05/29/2009 - 19:44
I found out just today that you can use a combination of keys to launch a shortcut on your desktop. This works in both XP and Vista, just right click on the shortcut and fill in the "Shortcut Key" field. Entering X, for example, will mean that the application launches with CTRL-ALT-X. This works not just for applications, but web and folder shortcuts too.
I figured applying this would make me work at home more efficiently, by making shortcuts for the 40 or so (All letters, numbers and some punctuation keys) most common applications and websites I visit. But how would I organise and keep track of such a system? Simple, check out my new wallpaper: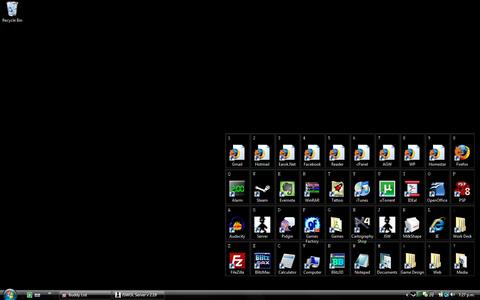 Pretty clever, eh?
In other news, I love Kirsty so much that I'm throwing her off a building.
We're doing the Skyjump on Monday. It's not normally the type of thing I blog about but, even though this will be my third time and her first, I'm more nervous about it then she is! So, as a motivator, if I don't post a new photo of me doing the Skyjump on Monday, the whole Internet will know that I'm a coward. Stay tuned.